When I read the description of Essentials in Writing for Fourth Grade (ages 9-10), I saw it as a two-for-one curriculum; a comprehensive grammar and composition course, and I was not disappointed.
Essentials in Writing for Fourth Grade ($40) consists of 3 disks: two contained the DVD lessons taught by former middle-school English teacher Matthew Stephens, and the third contains the printable worksheets files with answer keys, which are all in .pdf format. I chose to print the worksheets myself, use a 3-hole punch, and add them to Kenny's Language Arts binder. However, there is an option to purchase the preprinted workbook ($20).
The first thing to do with any new resource is look it over thoroughly. I read through the worksheets, and watched portions of several lessons on the DVDs to get a feel for how we would use it. Based on Kenny's reading and writing skills, I decided to do the grammar and composition sections concurrently.
We also did several lessons per day until we reached a lesson with concepts we had not covered. "Why not skip those repetitive lessons?" you ask? Because using those lessons with content with which the student is already familiar gives them a 'comfort zone' of 1) learning to use the product and 2) not being confronted with both the ins-and-outs of the program and being introduced to new concepts.
Kenny and I read through the accompanying worksheet together before we watched the lesson on the DVD. This helps him focus on the concepts that will be illustrated in the audio/visual presentation. After we watched the DVD lesson, he completed the worksheets, which are labeled with numbers and letters. It is recommended that the parents only assign one worksheet per day. Worksheet 1A, for instance, would be Monday's assignment, and 1B would be Tuesday's. Kenny moved through the beginning lessons at a faster pace, slowed down for lessons about how to spell plural nouns, sped back up for adjectives, slowed down again for adverbs. I assigned worksheets according to his understanding, need for practice, and ability to progress.
I usually have Kenny read the worksheet out loud to me, as this helps him focus on the instructions, and I perceive fairly quickly whether or not he understands the content before we go any further.
There are some significant benefits for parents who sit down and watch DVD lessons with their kids. For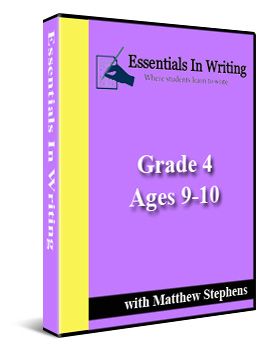 instance, the Essentials in Writing creator and teacher, Matthew Stephens, teaches each lesson with energy and enthusiasm. He obviously brings his years of experience to this curriculum, illustrating each point on the whiteboard behind him. Occasionally he interacts with his class (which remains off camera). Parents can gain insight into how to present and demonstrate information to students in an orderly, engaging manner. Students also see other ways in which grammar and composition skills can be conveyed, practiced, and internalized.
As I said, Kenny did the grammar and composition sections of this curriculum at the same time. The first lesson, "What is Writing" gelled nicely with Lesson 29, "Parts of a Friendly Letter". Then while he quickly progressed through lessons about simple and compound subjects and predicates, sentence errors, dependent and independent clauses, he practiced writing letters, and then moved on to lessons about the writing process, paragraphs, narratives, and description. I also had my high schoolers watch some of the lessons on descriptive and persuasive writing because I liked the way Mr. Stephens explained them.
The lessons about nouns gave me the opportunity to show Kenny that a word can't accurately be labeled as a part of speech until it is used in a sentence. On the worksheet below, is "bark" a singular or plural noun, or a verb? Even the word "table" can be used as a verb. I'm just OCD enough to make this kind of detour during a lesson, as it is important to me that my kids use language precisely and don't develop the habit of making assumptions.
The DVD lessons are quick and concise, but thorough. Seeing Mr. Stephens demonstrate each point himself on the whiteboard as he discusses language rules and reasoning is helpful for auditory and visual learners. Using the above described method, Essentials in Writing required 30-45 minutes to complete each day. This could easily be an entirely self-directed Language Arts curriculum. For the price of $40, this is an economical option for any homeschooling family.
For more information about how to use Essentials in Writing, read the "How to Use" page. To see a sample video lesson for EIW's elementary and middle grade courses, go to the Course Catalog, choose the grade level you are interested in, and click on the video toward the bottom of the page.
Check out the other reviews by the Schoolhouse Review Crew by clicking the banner below.