A+ Tutorsoft Multi-Sensory Interactive Math had me at "time saving".
We are currently homeschooling three children – two of which are in high school – which means some subjects must be self-directed to a significant degree. Math has always been the subject for which I focus on finding a curriculum that requires little parental involvement. However, math mastery is an essential skill, so it isn't a subject that parents can get scrimpy about.
Kenny is at the 4th-5th grade level in math, and the only curriculum I had for this grade level was a very tired textbook/workbook, worn to a frazzle by three previous students, and not as self-directed as I would prefer.
Enter A+ Tutorsoft, Inc..
I received the CD 4th grade level program for A+ Tutorsoft MATH to review, and installed it on my Windows Vista PC without a hitch. The Start Up Guide explained the process step-by-step with lots of clear screen shots. However, if you are familiar with how to install basic software and set up profiles, the process is fairly intuitive and self-explanatory.
I set up a profile for Kenny and a parent profile for myself. The parent profile gives password protected access to the admin panel that allows you to input grades for your student's quizzes, worksheets, and exams. You can set parental controls so that the student does/does not have access to solutions for worksheets and exams, or the program's calculator.
When the student wants to use the program, they log in with their profile with one easy click. To access the admin panel or parent profile, the student logs out, and then the parents logs in with their user name and password.
Since we planned to use this as our main math program, I approached it in the same way as I would have any other curriculum. Kenny began at Lesson 1.1, but was able to very quickly do the quizzes and exams until he reached a lesson that contained material with which he was not as familiar. It always helps to use beginning lessons to familiarize and become comfortable with a program. Not only does it allow the student to focus more on challenging material when it is presented, but it also helps the student become accustomed to any particular vocabulary or methods used to explain various concepts.
A+ Tutorsoft offers complete math curricula for grades 1st through 6th, Pre-Algebra, and Algebra 1. We reviewed the 4th grade level CD program, which has the capability of tracking five students. Using multimedia lessons composed of audio, visual, and printed onscreen instructions, Interactive Q&A, worksheets, and exams, the program is indeed multi-sensory and comprehensive. To determine which grade level your student should start with, A+ Tutorsoft offers free placement tests.
The multimedia presentation of each lesson explains math operations and concepts in an understandable manner with several examples. The lesson presentations so far have averaged between 10-15 minutes in length.
Each lesson is followed by an Interactive Q&A, with some multiple choice and some type-in answers. On multiple choice questions, choosing the answer automatically submits it – there is no opportunity to change the answer first. The student has the option to view the solution for review of wrong answers (or right answers for that matter, especially if child is unsure and guessing). On type-in answers, the student must click the 'submit' button on the  frog's stomach to submit answer and see if it is correct.
We had a moment of confusion over one question on an Interactive Q&A. Kenny had quickly chosen an answer that was correct, but the program said it was wrong. We went back and looked at the quiz questions, and realized that all of the choices were correct, so he should have chosen "All of the above". This showed him the value of reading all the answers first instead of jumping on the first one that looked right.
For even more practice and review, the parent has access to worksheets for each lesson, usually with 10-15 problems that focus specifically on the concepts covered in the lesson. This is a great way for kids to reinforce and demonstrate what they've learned by working problems with pencil and paper, and showing each step of the solution. After all the lessons have been covered in the chapter, there is an exam (printable) with 25 questions.
Another bonus is the curriculum book that is included- an ebook version containing every lesson that you may print or your student may view onscreen.
I kept track of the number of answers Kenny got correct on his Interactive Quizzes, worksheets, and exams to enter into the Progress Tracking fields in the Admin Panel, as this is not done automatically in the CD version. This does, however, maintain a record of all his scores and calculate his percentages. The parent can also reward their student with Certificates of Accomplishment.
Some parents balk at having to print papers out for school because of the cost, so here's a helpful hint: Invest in a printer that uses separate cartridges for each color and for black, does automatic duplex (2-sided) printing, and plan ahead to purchase inexpensive replacement cartridges in bulk from reputable online sources. This not only makes printing pages easy, but also economical. However, if you do not have the ability to print quickly and cheaply, you can order the workbook, which is the worksheets and exam pack, from A+ Tutorsoft MATH.
We have quickly and easily adapted to a regular schedule with A+ Tutorsoft MATH each morning. Kenny is very comfortable with it, and is progressing quickly. I'm free to oversee my Algebra students… or do the laundry.
All of the features and different formats available make this program very flexible. The colorful interactive lessons, curriculum book, quizzes, worksheets, exams… the ability of the parent to track and reward student progress… you can see that they thought this program through, making it comprehensive but user-friendly. Other than setting up the program and profiles, doing some printing, and entering scores, this program was entirely self-directed for Kenny. All traits for which homeschool parents are often looking for in their curriculum choices.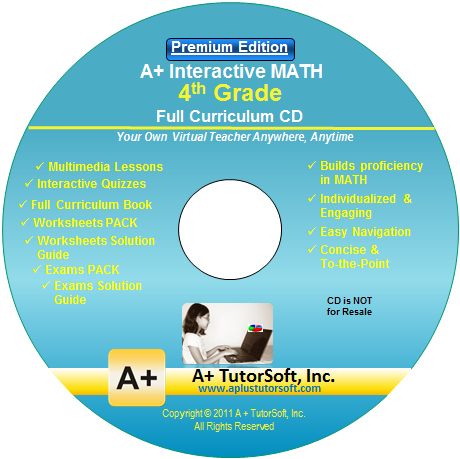 A+ Tutorsoft Interactive MATH on CD Standard Edition is $99.99 per grade level. The Premium Edition is $124.99, and tracks up to five students for each grade level. But right now you can REQUEST A COUPON CODE for 50% off the regular price. An awesome deal for any homeschool family. (This offer expires at the end of March 2013).
A+ Tutorsoft also has an online version of this program with a few different features. Use the link below to read more reviews about the CD version, as well as the online program.