It isn't enough to know what we believe- we must know why we believe it. I Don't Have Enough Faith to Be an Atheist and the accompanying workbook fulfill that need by providing a thorough study of Christian apologetics.

Apologetics is "the discipline of defending a position (often religious) through the systematic use of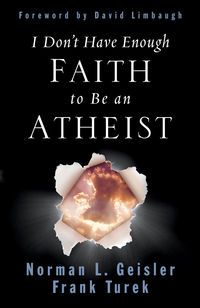 information." Apologia Educational Ministries seeks to provide parents with resources that help them give their children a solid foundation for their faith. I Don't Have Enough Faith to Be an Atheist by Norman L. Geisler and Frank Turek asks and answers some of the most challenging questions of our time.
For our family, Monday morning is our Bible study time. By setting aside an entire morning, we are able to read and thoroughly discuss Scriptural topics. We had dedicated this year to an in-depth study of apologetics, so receiving I Don't Have Enough Faith to Be an Atheist was like an answer to prayer.
The book itself is organized, comprehensive, and intriguing. Each section begins with a logical 12-point outline of why Biblical Christianity can be proven as truth, and each chapter covers points and subpoints of that outline. This gave us a clear picture of where we were at and where we were going with our studies. Each chapter ends with a summary of the salient points covered so we could easily review and verify our understanding of the content. The content itself purposefully and thoughtfully engaged our minds and hearts to consider and answer foundational questions:
The authors offer many personal examples of situations where they and others have had to grapple with these kinds of questions. This further illustrates how we must be "ready to make a defense to everyone who asks you to give an account for the hope that is in you…" (1 Peter 3:15) and it is always helpful to hear the real life application of the information and counsel given, and feel a connection with the authors.
For homeschoolers, the notes, bibliography, and Scripture references indexed in the back of the book provide a wealth of information and source material for further study. Speaking of further study- the workbook is a true blessing. It gives the parent guidance for using the book, as well as supplemental material, study questions, vocabulary words, and thought-provoking writing activities.
The workbook recommends taking 2-3 weeks to cover each chapter. Even though we set aside an entire morning for Bible study each week, it is a subject we do together, so  it will probably take us a bit longer than that to cover this material in depth with our kids. I found that our 10 year old was able to grasp quite a bit of the material and could answer some of the questions. This subject is very challenging, but it is not so over-your-head that a younger child can't take in some of the principles taught. However, the course material and assignments are definitely geared toward the high schooler.
The workbook also includes a variety of profiles of influential people, such as Carl Sagan, C. S. Lewis, Benedict Spinoza, Isaac Newton, Tiberius Caesar, Mother Teresa, Adolph Hitler, and Mohammad, as well as notes on the impact of archaeology and the discovery of documents such as the Dead Sea Scrolls on our understanding of the past and our Biblical heritage.
Most importantly, the workbook asks questions to help both students and parents internalize what they've learned.
There is also a DVD series based on the book featuring author Frank Turek, and a free answer key to all of the questions in the workbook, chapter tests, and chapter test answer keys on the Apologia website (the password for access to these additional materials is in the workbook).
The book, I Don't Have Enough Faith to Be an Atheist, (447-page trade paperback) is $16.00, and the workbook (279-page sturdy spiral-bound) is $33.00.
Want to know what the rest of The Schoolhouse Review Crew 
thought about I Don't Have Enough Faith to Be an Atheist? Click on the banner below.