Regardless of your student's learning style, Supercharged Science will grab their attention and have them diving into science after just a few clicks.

I have to admit- the first thing we did was watch a boatload of experiments, performed and explained by Aurora Lipper. She has an incredible background in science, and you can sense her expertise in the way she explains the process. She displays excitement and joy in her presentations which keeps kids riveted to the screen. The variety of experiments was astounding- over 800 to choose from. I had to drag the kids away so we could make lunch.
Oh yeah- the television. We hooked up one of our laptops to the TV with an HDMI cable, and were able to read lessons, look at charts, and watch experiments on a great big screen together. Totally cool. What is more fun than seeing the kids learn about science while sacked out in a recliner?
I have said many times that I am not a big fan of textbooks. But with science, it is difficult to get away from the traditional process of reading the text, memorizing terms, and answering the end-of-the-chapter questions. We feel like this is the only way to make sure they've adequately covered the material. But this process tends to suck the life out of science. Science is not just about definitions, conversion charts, formulas, and graphs. It is about the discovery of how and why things work the way they do.
So – I was very pleased as I examined the Supercharged Science website. Beginning with the Getting Started page, I started working my way through the recommended steps of watching the Introductory videos, looking for the area of study that coordinated with where we were in our current science program, and then jumping in with our first lesson on the periodic table of the elements.
But we couldn't resist skipping around to perform experiments with items we had in the house. As soon as they saw the Plasma Grape, they ran upstairs to raid the fridge. We are in the process of growing crystals with borax, sugar, and salt. And what kid doesn't want to make a fruit battery?
As Aurora states on her Getting Started page, teachers and parents often head right into the text and try to get our kids to learn the facts first before doing any demonstrations or other 'fun' stuff. But sparking curiosity is the best way to get a student motivated enough to immerse themselves in the material on their own. In spite of my perfectionist tendencies, where everything must be 1-2-3 with i's dotted and t's crossed, I wasn't in the least disappointed with our plunge into experimentation, and the resulting curiosity that propelled us into the video lessons and text.
We finally settled down and watched the introductory videos, "New to e-science?" and  "Unit Zero: An overview of e-science", all the way through, after which we had a much better feel for the program. Then we began discussions about how to implement it. The first decision, especially for my high schoolers, was whether or not to use it as a supplement to our existing curriculum, or as a replacement. The vote for 'replacement' was unanimous.
Each unit is composed of several elements:
Getting Started

Lesson Plans

Lessons

Highlights

Introduction

Reading

Experiments and Videos

Exercises (answers included)
We were already into studying Matter, so we started with Unit 3: Matter (Atoms, Density, Solids). We listened watched the introductory video, and listened to the teleclass (available to play online or download as an MP3 file) with the highlights and introduction text up on the big screen. The text is written in the same conversational tone as the audio and videos, both narrated by Aurora Lipper. Then we did the Lesson 1 reading, and chose a couple of experiments in the unit that we hadn't already done. I made notes for myself on what pages to go ahead and print for my kids' science notebooks.
Important note: Do not feel that you must do all of the experiments. While most can be done with normal household items, there are literally hundreds of experiments on the site, and you will go bonkers if you try to buy everything on the provided shopping list before planning which unit you are going to use. The list is simply there so that you can see at a glance the kinds of things you will need to do the experiments. Most of them you will probably be able to mark off as items in your cleaning closet, junk drawer, bathroom, and kitchen!
While doing experiments, one of the ways to help kids internalize information is to pause between steps and try to guess what will happen when you:
add vegetable oil to a large jar of water? Or dish soap? Or paraffin? 

microwave Ivory soap?
stick a filled balloon in the freezer overnight?
Then when you see the results of your experiment, it's fun to see if you were right or wrong, and why.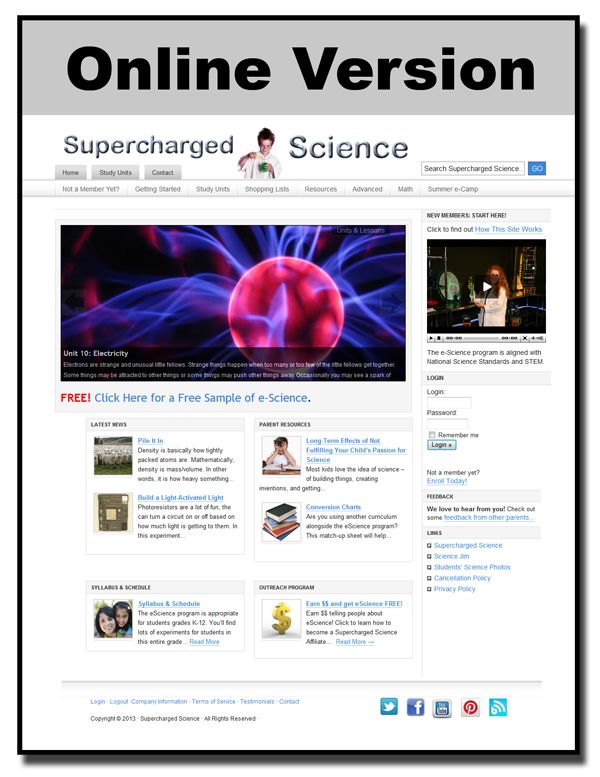 Other units available with a monthly subscription are:
Mechanics
Motion
Matter
Energy 1 & 2
Sound
Astrophysics
Chemistry 1 & 2
Light
Magnetism
Electricity
Alternate Energy
Thermodynamics
Electronics
Life Science 1 & 2
Biology 1 & 2
Earth Science is coming soon
Award Winning Science Fair Projects
Mathemagic
Science e-Camp
and a page of parent resources.
This program could easily be self-directed, especially for older students. The content and goals of each lesson, as well as most experiments, are in audio and visual formats. The lesson plans help you decide how to put this program to use, with a brief unit description, key vocabulary, materials list for experiments, and exercises with answers. However, there aren't specific guidelines of the sort that tell you how much time to spend on each lesson, or how many lessons to do per week. It is totally up to you how you integrate Supercharged Science in your homeschool schedule.
Many experiments require adult supervision, but this is not a curriculum that requires any scientific knowledge from you, nor will you have to hover, poke, or prod most kids into using it. It is also great for teaching multi-age children, as the K-8 content is included as a free bonus when you sign up for Grades 9-12.
A particularly helpful section on the site is the detailed explanation of how to create and use a scientific journal for keeping track of material covered, experiments performed, questions to ask, and how to write a science journal report.
If you want to use Supercharged Science as a supplement, conversion charts are provided for:
A Beka
Apologia
Bob Jones
God's Design
Real Science 4 Kids
The Noah Plan
K12.com Online Course
Alpha Omega Switched On SchoolHouse and Lifepac Series
Considering God's Creation
Science of Physical Creation
Noeo Chemistry Curriculum
Christian Kids Explore Creation
Secrets of the Universe by Paul Fleisher
Rainbow Science
Classic Science: Physical Science
Science: A Closer Look
Singapore Early Bird Books (1-4)
Science Foundations
Prentice Hall Physical Science
REAL Science Odyssey (Life)
Saxon Physics Curriculum
Noeo Physics Curriculum
Science Mastery
For parents concerned about how evolution/creationism is handled, the simple answer is- it isn't. The focus is facts and inquiry, how to record data and take measurements, use scientific equipment, etc… The parent is left to teach evolution/creationism in any way they see fit.
Homeschoolers love to Try Before We Buy, so if you want to check out Supercharged Science, you can have full access to the program for 30 days risk-free with a money back guarantee. If you discover that this is a program you can use, remain enrolled for only $37 per month. You still have the option to cancel any time.
What did the rest of the Schoolhouse Review Crew say about Supercharged Science?