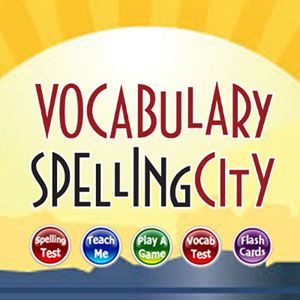 Any program that combines ease of use, the fun factor, and learning is a joy to review. VocabularySpellingCity offers a Premium Membership that includes all the bells and whistles a parent or student could want in order to increase spelling proficiency and broaden vocabulary.
Signing up for a Premium Membership is easy, grants the parent and up to five (5) students (K-12) access to VocabularySpellingCity for $29.99 per year. With the Premium Membership (which is ad free), parents can log in as a Teacher and:
create student accounts and groups
customize, manage, share, and import word lists for each student
select and customize sentence and paragraph writing practice
access VocabularySpellingCity content with definitions, parts of speech, synonyms, and antonyms
print worksheets for handwriting practice
automatic tracking of student activities
see the results of activities and tests
assign scores and leave comments on their writing practice activities
Students receive their own log in and password, and are able to:
view their Teacher's Page
access assigned word lists and study using VocabularySpellingCity's options of say-spell-say, flashcards, games such as Word Search, Hang Mouse, Word Unscramble, Audio Word Match, and Missing Letter
print handwriting worksheets with different fonts (print, cursive, upper case, lower case, or large, small, or medium type)
test their word skills with Spelling TestMe and Vocabulary TestMe
watch video lessons about 

analogies, 

homonyms, synonyms, and antonyms, 

compound words, 

contractions, 

figurative language, 

parts of speech, 

syllables, and 

verb tenses
It is important that each student using the program create a log in and password so that their activities and test scores are recorded.
The screenshots below show the Flashcards, Word-O-Rama and LetterFall games.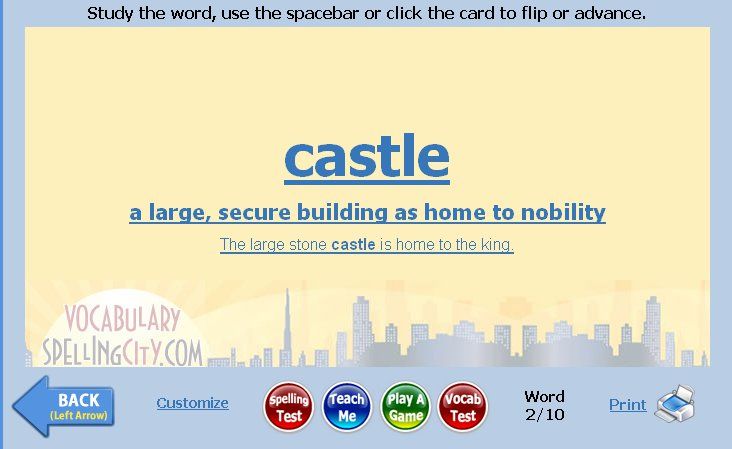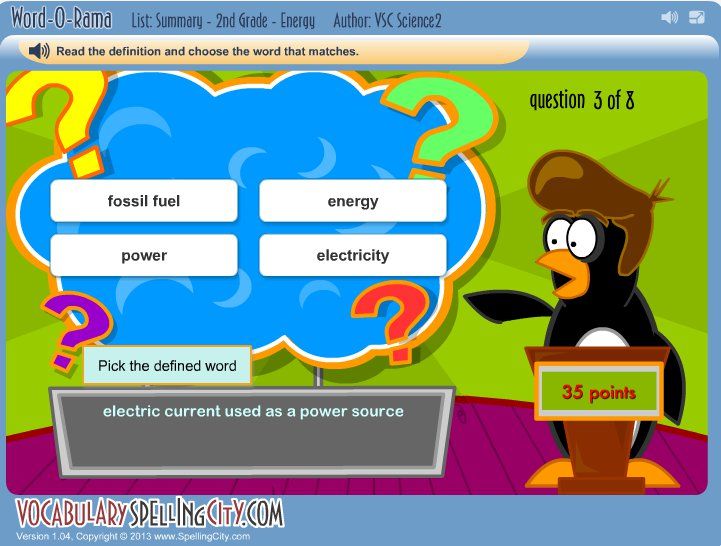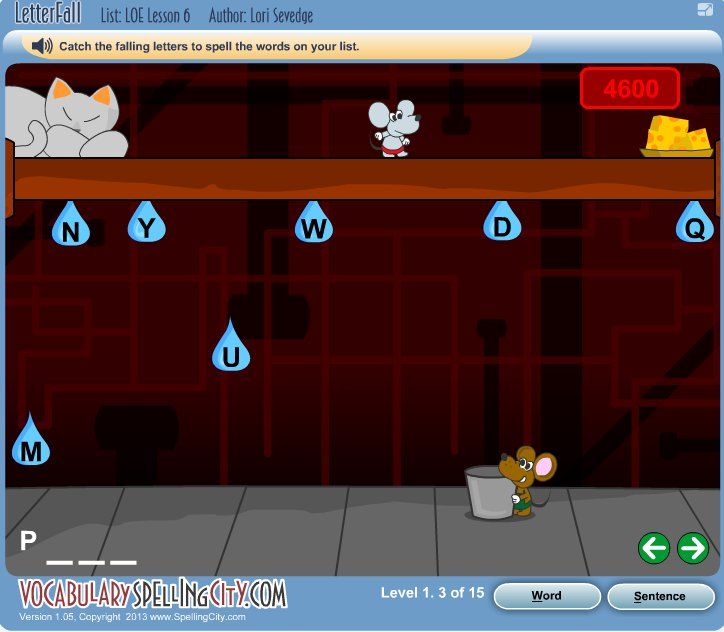 Once we received our access to the Premium Membership, I could assign word lists to my kids based on where they are at in their spelling and vocabulary skills. If one of them needs extra practice with homophones or a particular phonics rule, chances are there is an existing word list that is already part of VocabularySpellingCity's content. This is a tremendous convenience, so that I don't have to sit for hours entering word lists, (and by the way, there is a 51 word maximum per list), nor do I have to purchase a separate spelling curriculum in order to use VocabularySpellingCity.
However, I can customize the existing lists, or create my own from scratch. I do this on occasion with unfamiliar words they have found in their reading, during our discussions of other subjects, or terms they come across in their daily life. I can also save these lists for future use.
For this review, I focused on Kenny's spelling and vocabulary needs. He is especially interested in getting more homophones straight, including words that are not commonly used, such as different spellings of blue, blew, and bleu. He studies by using the TeachMe feature. As he clicks on each word in the list, a voice says the word, spells it, uses it in a sentence, and says it again.
Then he continues studying by playing games with the words in the list. Even though there are multiple games to choose from, Kenny favored the Audio Word Match game. As soon as he thinks he is ready, he uses TestMe to see how well he remembers his word list.
Overall, this is an incredibly helpful and flexible program that can be quickly and easily customized to fit each student's needs, regardless of grade level. You can visit the FAQ page for more details about all the features so that you can see how your family would benefit from the program.
VocabularySpellingCity is also available as an app for iPad/iPhone/iPod Touch, and just recently as an app for Android devices from the Google Play Store, or as a Kindle app from the Amazon App Store.