Most of the educational resources we receive for review are for our homeschooled children. It was like a little gift to find The Homeschool Mom's Bible, published by Zondervan, on my doorstep a few weeks ago.
When I received The Homeschool Mom's Bible for review, I was curious, and a bit skeptical. Would I be distracted by the devotionals interspersed throughout the text? Would it be difficult to find a particular reference with all those extra pages to scroll through? What kinds of features did it have that would enrich my Bible study time? Were there others ways to use the Bible besides my regular devotional time?
As I took this Bible to church, our Ladies' Bible study, to the Leadership meeting for our local homeschool group, and copied it for my regular devotions, I found that it was very useful for each one of these venues, and not at all distracting or cumbersome.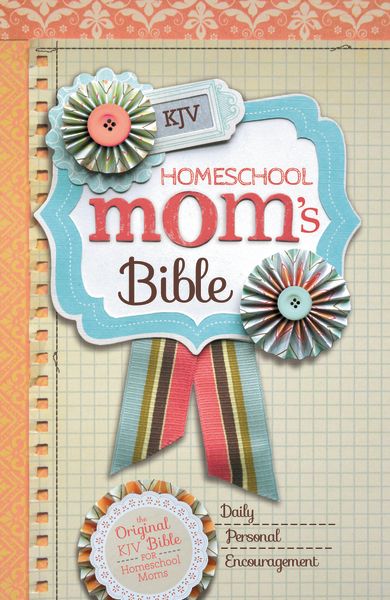 The Homeschool Mom's Bible definitely has "mom" written all over it, and not just in the name. The glossy hardcover with matching dust jacket has an attractive scrapbook design. Inside, the title font is a stylish script that is warm and inviting. The paper has the familiar thin and smooth quality of most Bibles, and the text font is clean, well-spaced, and easily readable. There are no notes or cross references in the text, which I much prefer. The only markings are paragraph symbols (¶).
As with most Bibles, the front contains the Table of Contents, with the list of the books of the Bible and their page numbers. After that comes information about the origins of this particular themed Bible, and how it can be used.
The Foreword starts us off with some encouraging words from Vickie Farris, who is a published author and wife of HSLDA founder Michael Farris.
The information in About Alpha Omega Publications explains how their Daily Focus devotionals by Janet Tatman became part of this Bible. Janet Tatman homeschooled her four children for over 25 years, so it is with confidence that the homeschool mom can read her reassuring words of understanding, advice, and hope.
I chose to receive the King James Version of The Homeschool Mom's Bible. There are 365 devotions distributed throughout, about every 3-5 pages. Each devotion has a date in the top corner so that you can organize your reading by date, if you choose, and a note where to find the next devotion at the bottom of the page. One does not need to follow the dates necessarily, as the devotion topics are evergreen for any homeschool mom's life. The devotions are also not based on the Scripture passages in which they are found. You can just read the Bible passage and save the devotional for a later time, or read them together.
For instance, I started copying Scripture a few weeks ago, and I simply read the devotions on the page next to what I was copying, which means I was reading January's devotions in September. Nothing imploded, and there was no disruption of the space-time continuum. This Bible is a tool for you to use to gain insight and comfort, and not at all an attempt to bind you to an arbitrary reading schedule. I have many friends who love having dated devotional material who would very much want to stick with the program, so there is still an appeal for either kind of reading and Bible study method.
One of the ways I used this Bible was for the introductory devotional at our monthly Leadership meeting for our local homeschool support group. It was nice to read an uplifting story that came from the kind of experience we've all had in our homeschool lives.
Whether we are new to home education, or we've been homeschooling since the extinction of the T-Rex, at the heart of the matter it's often the same thing, again and again. Our pride, our lack of faith, our impatience and fears. Regardless of how different the details of our daily challenges, our reactions are still either rooted in our faith and obedience to God's Word, or in the fleshly pull of our old nature. Janet's words of experience offer relief that we are not alone in our struggles, and that there is hope and victory at the end of the day for us when we trust and obey.
These devotionals are not just charming feel-good stories. Each one touches on a particular topic, like discipline, contentment, spiritual gifts, and peer pressure, and is based on relevant Scripture references. To find something in particular, look in the back of The Homeschool Mom's Bible for the Topical Index of the subjects covered in the devotionals. If you want to talk to your child about "deception", for example, you could read any of the six devotions that touch on that topic, each one based on a relevant Scripture. Listening to the adventures and incidents in the life of another homeschool family, and how they handled them, can also be a help to your kids. Mine love hearing stories about other homeschool families, as they gain as much consolation from these as I do.
The Homeschool Mom's Bible is a glossy hardcover printed with the same design as the dust jacket. It is 1504 pages, and the dimensions are approx. 9 x 6 x 1.5, and it weighs a little over 2 pounds. You can find it at the Zondervan website: $34.99 for the hardcover, $49.99 for the Italian Duo-Tone in Cornflower Blue, or $14.99 for the ePub version. It is also available in the New International Version.