My kids were so excited about reviewing the StudentKeys Binder from PeopleKeys. The workbooks included help students assess their Personality Style, Perceptual Learning Style, Cognitive Thinking Style, Values Style, Career Choice, and Goal Setting, all of which sounded very cool. The minute we opened the package, we started reading and discussing the material in these workbooks.

We eventually got around to reading the instructions, which give an overview of the purpose of each workbook, the order that they should be completed, and the time limits for each assessment. StudentKeys are geared to high school and college students. I usually can adapt resources to also fit Kenny, who is eleven, but this one wasn't one of those resources, possibly because he is still our little chipmunk, and his personality either isn't fully formed, or isn't as obvious as it is with Emma (15) and Noah (16).
We first focused on the Personality Style Workbook, which is the main foundation for the other assessments. PeopleKeys uses the DISC personality profile to categorize our reactions, perceptions, and preferences. By ranking particular behaviors, students can pinpoint their basic personality styles. There are no 'right' or 'wrong' answers. Students do need to be very honest about themselves though. They can't rank themselves by who they want to be, but as objectively as possible, scoring their behaviors from those that are the most like them to ones that are the least like them. The assessment brings out the student's unique combination of strengths, tendencies, and potential weaknesses.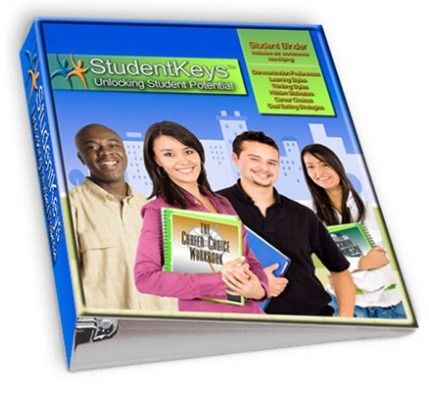 Most people are a combination of at least 2 behavioral categories, so it doesn't feel at all like we are being pigeonholed or stereotyped. The workbook also points out that the assessment isn't just so that you know your own basic personality style, but to be able to use the information to assess others, and nurture relationships with friends and family by improving communications with other personality types. If you know your own strengths and weaknesses, as well as those you live and work with, you can adjust your behavior and responses accordingly.
We found the test results to be very accurate descriptions of our personality styles, and this built our confidence in moving forward with the other assessments.
We chose to do the Career Choice Workbook next, as everyone was itching to see if their current interests matched up with the StudentKeys recommendations. The first few pages of this workbook took us several days to work through, because they brought up many interesting questions about our current economy, careers in demand, and the education or training necessary to qualify for particular vocations in today's job market. Personality styles definitely come into play here, as certain styles seem to be attracted to certain vocations, and understanding your style and that of others helps you be a better employee and co-worker.
The assessment checklist in this workbook helps you find your occupational style, which is in turn translated into a list of vocations that are well met by those styles. We were amazed at how well our occupational styles met with our interests and abilities. For instance, Noah is primarily an S (Steady/Stable) personality type, and is interested in Psychology, while Emma is an I (Influencing/Inspiring) personality, and wants to be an event planner and designer. She is also interested in cosmetology, which is also listed under the general occupations for an I personality.
We then moved on to the Goal Setting Workbook, which I felt was very needful for their age and grade level. It's all well and good to have an idea of what your vocational goals may be, but a working plan is essential. We are still working in this workbook, and squeezing it like an orange. It is full of insights and information about goal setting – from why you need goals, to the basic characteristics of people who are successful, and thought-provoking activities about how to set and maintain priorities in order to meet career, personal, and even leisure goals.
We are also moving into the Values Style Workbook, which helps students think about how and why they react to certain situations differently than others, and how our values are revealed by our decisions and subsequent actions. Again, honesty is an absolute necessity here, but there aren't any 'bad' or abnormal values styles. Rather, students can focus on positive aspects of their mental makeup, and and learn to appreciate their individuality, as well as that of others.
The Cognitive Thinking Style Workbook helps students understand their thinking patterns so they can tailor their learning experiences in a more positive and productive direction. This assessment will also be helpful to me as a homeschooling parent. Even though I've been homeschooling my kids all their lives, children grow and change and develop in unique ways, and I know I can miss valuable opportunities if I get stuck in a mental rut about how they learn best. Looking over the workbook, I have an idea which of my kids are Literal Thinkers, Intuitive Thinkers, Theoretical Thinkers, and Experiential Thinkers. If it is anything like the others, I know it will be fun to read and discuss this workbook.
The Perceptual Learning Style Workbook is different than the Cognitive Thinking Style Workbook, in that the Cognitive Thinking Style is based on how they process information, while the Perceptual Learning Style focuses on how students use their senses to learn and retain information. Most homeschool parents are probably familiar with the idea of Auditory, Visual, and Kinesthetic learning styles. The questionnaire in this workbook can assist students in identifying how they learn so they can fulfill their academic potential. This is also important for homeschooling parents for many reasons, such as choosing the best curriculum, materials, and methods each year for our children, making our homeschooling dollars go as far as possible, and seeing our children benefit from a more pleasant learning experience.
The Perceptual Learning Style Workbook also lists ways for students to get the most out of their learning, from recommendations for interacting in a traditional classroom, to study methods, to test-taking strategies.
I would encourage parents and students to do these in the recommended order, as each builds on the last. We did them out of order, but nothing melted or exploded, and we had fun assessing ourselves, each other, and then our family and friends. We will continue to use these workbooks, not only to understand ourselves better, but to understand and communicate well with others.
The StudentKeys Binder contained these 6 workbooks, which were all 3-hole punched and arranged in a sturdy 1″ view binder for $49.00. These workbooks are not reproducible. PeopleKeys offers many other assessment tools and learning resources, and the Schoolhouse Review Crew reviewed some of them, which you can read if you click the banner below.