One of the most attractive aspects of homeschooling is the freedom to combine subjects and transfer learning. With Draw to Learn from Notgrass Company, the creativity and beauty of art is merged with Biblical teaching.

Although we received all five Draw To Learn books as ebooks, we decided to focus our review on the physical book that we received - Draw to Learn Proverbs. Containing 31 chapters, the book of Proverbs is perfect for daily reading, and Draw to Learn Proverbs is an effective way to engage the student a little deeper in the message of each chapter.
I have kids who are doodlers. Their dad is a doodler, so it must be his fault that they often pay more attention to what is being read or discussed if they have materials available for the creation of swirlydos and thingamajigs. For students of all ages who doodle too, Draw To Learn provides focus and direction for their artsy side, using the process of Read – Think – Draw:
Read the Bible passage

Think about what it means

Draw an illustration of the event or truth
Useful as independent work or part of a multi-age Bible study, Draw To Learn doesn't require parents to be able to 'critique' artwork. It is a platform of artistic expression and intelligent discussion. Each page spotlights a particular verse or passage, such as Proverbs 8:3-11 (shown below), and the instructions ask the student to illustrate verse 3 inside a 'frame' printed on the page.
Parents may want to direct their child to spend some time on their pictures, putting in details and using drawing techniques they have learned or are learning, but the point of the curriculum isn't about employing specific drawing techniques. When children process information in more than one way, they are much more likely to internalize it.
Another way to use the book is as handwriting or calligraphy practice, by copying the beautiful poetry from Draw to Learn Psalms into the 'frame' and adding personal flourishes. They can draw maps of Paul's journeys or examples of Roman architecture in their copy of Draw to Learn Acts, and incorporate history and geography studies into their Bible study and drawing practice.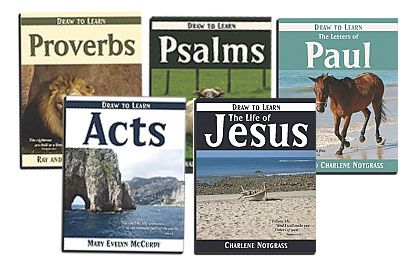 There are a couple of pages at the beginning of the book with a few instructions and helpful hints for parents, making this curriculum ready to go right 'out of the box', and very user friendly.
The physical book is 150 spiral bound pages of good quality for drawing, and provides the child with their own personal sketchbook. The printed books are copyright protected so they cannot be reproduced as a non-consummable workbook. Pages from the ebook versions, however, can be printed at the parent's discretion, but only for use by one's family.
Scripture quotations are from the King James Bible, the New American Standard Bible, and the New International Version.
The ebook version would be a great resource for notebookers and lapbookers. We aren't exactly scrapbooky types, but I quickly realized the addition of some art pages added a personal touch to some of the kids' notebooks. Each one of these books also has major unit study potential, and would appeal to visual and kinetic learners, as well as those who are writing preference learners.
So every morning when we read our Proverbs for the day, my doodler can doodle to his heart's content, and show that he understands the truths conveyed in the passage, sometimes in ways that younger students can't always express in words. With 150 lessons, Draw to Learn Proverbs gives us the option of using it for an entire year of Bible study and art pages.
Draw To Learn books retail for $14.95, and the .pdf ebooks are $9.95.