Very often in our homeschool, each child has their own projects and assignments, so our time to connect is very important. Books like 25 Truths published by Ed Douglas Publications is a resource that makes this time meaningful and interesting.
We like having a 'list' of values to refer to when situations arise during the day. Instead of lectures and rants, in a short sentence I can help the kids recall a lesson we have discussed at length. They also self-correct because these phrases are succinct and yet expressive of so much truth. I felt very fortunate to be able to review 25 Truths and add it to our devotional repertoire.

Each chapter takes one of the 25 axioms compiled by the author and explores it for 2-3 pages with illustrations and practical advice, then summarizes it, and ends with a list of questions that helps kids analyze, comprehend the implications of practicing or ignoring it, and then encourages them to apply it to their lives. Every one of these truths is short, pithy, and Scriptural, and is directed toward young people ages 12 and up, although during a family discussion time, these nuggets are simple enough for younger kids to understand as well. They are based on Ed Douglas' years of experience as a husband, father, businessman, and high school tennis coach.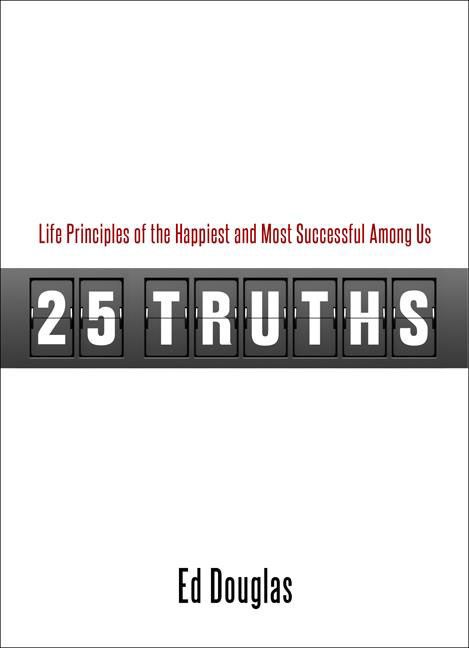 It only takes about 20 minutes a day to use 25 Truths to give your kids wisdom and advice they can easily remember, and therefore hopefully use. With truisms like, "Watch what you say, do, and write", and "Be quick to apologize", these proverbs are not fancy-schmancy and wordy, but concise, practical, and simple enough to recall when the situation arises.
Many of the illustrations used in the book are personal experiences of the author, while others are historical, based on published research studies, or from books like Outliers by Malcolm Gladwell and Good to Great by Jim Collins that can be assigned as extra reading so the kids can delve further into the topics. The possibilities of using this book as a basic life skills text are many.
Once you've begun to read the book, reinforce  25 Truths by applying them throughout the day. Those few minutes in the morning are essential, but wisdom gains more traction when it is reinforced regularly. The uses and abuses of social media give you many examples of the necessity of "Watch what you say, do, and write". Political shenanigans can provide lessons for the consequences of ignoring the need to "Tell the truth". When kids struggle with how to prioritize, remind them of the principles in "Set goals and write them down". When they are discouraged, revisit the chapter "Never Surrender".
Whether you begin or end the day connecting with your kids, 25 Truths is a valuable resource that can have a very long shelf life of influencing them to make better decisions, be more thoughtful, exercise Godly virtues, and develop good habits.
25 Truths is a handy 5×7, 150-page glossy paperback that can be purchased from Ed Douglas Publications for $12.50. You can also follow Ed Douglas on Twitter.