One of the goals of geography and history is to help students connect the past and present. Geography I by Memoria Press provides a thorough study of Middle East, North Africa, and Europe for students in 4th-8th grades with those important bridges in place.
Also included is a 25-page workbook for the review of United States and capitals and a Teacher Key with quizzes and tests.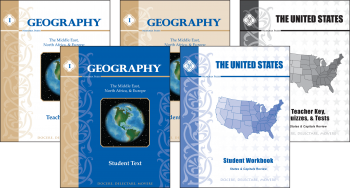 We began our review with the US workbooks. The unique approach of dividing the states by regions was particularly helpful to Kenny. It was obvious that he enjoyed this method, as it simplified and organized the task in a way that made it seem much more doable. I didn't even have to ask him to color or label the maps- he has been way ahead of me on that every day that we have used Geography I. He also keyed in on the use of the names of these regions in weather reports, and this real life application gave him positive reinforcement.
Then we started including the Geography I text and workbook to study the Middle East, which is of interest to my kids because of how often it is in the news, and their older brother Seth spent some time in Iraq while he was in the Army. The background information helped Kenny understand why this area of the world is so war torn, and has been for thousands of years. The maps also help students with their simplicity, each chapter building on the previously covered material.
North Africa is also important in Bible history, and learning about these countries gives students a window into a much different world that exists just across the Atlantic.
After this we visit Europe, starting with the Mediterranean region, then Central Europe, the British Isles and Low Countries, Scandinavia, and Eastern Europe divided into two chapters.
Each chapter is only couple of pages, so we read one section each day. Then at the end of the week we used the workbook to review and reinforce important facts and location on a map. Exercises involved recalling basic facts such as capital city, the country's original name, interesting facts from the text, and labeling and coloring maps. Tests focus on map skills, as information about countries change very quickly. We compared some maps from older books and found how many country names and boundaries had changed just in the last 25 years –  as in, since Mom was in high school.
Kenny is getting a solid foundation in world geography and history, and it is always a happy day for me when my kids are enjoying the learning process. They appreciate simple, straightforward lessons that focus on important information that they can use when hearing about current events or Bible history.
I appreciate quality workbooks with glossy, sturdy covers and paper of the appropriate finish and weight that is easy to write on and doesn't allow show-through. The Teacher's Guide notes that you can make copies for your own students, so for us using this curriculum is economical and flexible. We copied many pages in the United States workbooks so that Kenny could learn the state regions in steps- the first few days he colored and labeled maps by looking at the map in the book, and then colored and labeled a blank map from memory.
This curriculum can be used alone as an introductory course, or in addition to a World History curriculum because of its flexibility.

The Geography I set – Student Text, Student Workbook, Geography I Teacher Guide, United States Review Student Workbook, and United States Teacher Review Key, Quizzes, and Tests – are bundled together for $48, or sold separately. You can view sample pages of the text, table of contents, and workbook at the Memoria Press website.
Based on a good experience with Geography I I'm interested in checking out other resources from Memoria Press. If you are too, then click on the banner below to read Schoolhouse Review Crew reviews of Prima Latina.