For parents and students who want information, explanations, and guidance about how to prepare for college, High School Prep Genius has packed that and more into a 440-page high quality glossy trade paperback published by College Prep Genius.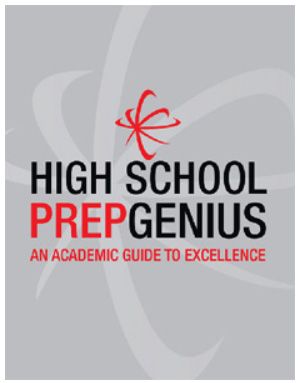 Beginning with a short section about how to use the book, High School Prep Genius continues with instructions for creating a college and career notebook, and how to plan and use month-by-month timelines from 9th to 12th grades. These are excellent tools for breaking the intimidating task of college planning into understandable and manageable chunks. What's more, you don't have to know your college and career track down to the last detail in order to use a book like this.
Noah and Emma have a variety of interests and skills that they are exploring and developing. It would be foolish to wait to begin the process of prepping for college until they had settled on a  specific vocation, but High School Prep Genius contains charts, checklists, and forms as well as examples of how to use them so that students keep moving forward with their education as they begin to specialize and focus their efforts in a particular career direction.
Our college/career notebook is divided by year, month, and category so that all the information we need is readily available to us, and we can stay on top of any important tasks that need to be completed at specific points in their academic calendar.
Preparing for college is not just about academics. Foundations For Personal Success is a section dedicated to important considerations for personal development, such as what it means to become an adult and being responsible for one's own decisions. Meaningful questions encourage students to think about who they are and who they want to become, and parents are given guidance with example questions to promote discussion of their children's futures with them. Young people also need to understand the importance of being physically healthy, being financially independent, and building a support system of parents, teachers, and mentors, as well as making and maintaining healthy relationships.
The section titled Foundation For Academic Success gives a basic 10-step Reading to Learn outline and help for keeping notes, homework, and projects organized. There are examples of how to use day planners for time management in order to prioritize and balance obligations. Further strategies are given for taking tests, and  ideas for going beyond the basics with community centers that offer workshops, dual credit classes at local colleges, private lessons, volunteering for charitable organizations, and apprenticeships with local businesses.
The primary motivation for taking advantage of all these opportunities is to develop a well-rounded and compassionate individual, but the fact that many of these activities are essential to qualify for scholarships should not be overlooked, and High School Prep Genius includes information about these as well.
Chapters under Foundation For Future Success cover future development on many fronts- goal setting, how to research in order to choose a school that offers the best career preparation, and even whether or not to delay college. Standardized tests such as the PSAT/NMSQT, SAT, and ACT are often the boogeymen of the education process, but High School Prep Genius takes away some of the scary by explaining each test, its purpose, and how to prepare for them.
Completing college applications is much easier with detailed instructions and an application checklist. Parents can glean ideas and learn about options for paying for school, and how to encourage their child through the experience of moving toward independent living. This is followed by a chapter about college essentials, such as choosing classes and picking a major, leaving home and working through separation anxiety and homesickness, and living on campus with a roommate. There are many misconceptions about college, thanks to tv shows and movies that depict college life as unbridled freedom and partying. But college is just another part of life, where in order to be successful the student must be responsible, thoughtful, friendly, confident, and sensible.
Supplemental information includes building a homeschool transcript, and there are examples of transcript formats and course descriptions in the appendix. An option that I had never considered was to be involved in talent searches to open up more opportunities for interesting experiences and to qualify for scholarships. Appendix C is a well-rounded list of books for recommended high school reading. Suggestions for how to relax and reduce test anxiety, and then a glossary of common terms used in college admissions complete the picture of college readiness that High School Prep Genius draws for us.
For homeschoolers who want the inside scoop on how to navigate from high school to college and beyond, High School Prep Genius is a valuable resource, available for $29.95. Make sure to check out the other resources by College Prep Genius, and read more reviews by the Schoolhouse Review Crew by clicking the banner below.