We have two writers in our house – Emma is working on a screenplay, and I like writing fiction – so the chance to review a course from Writing with Sharon Watson was appealing to both myself and my daughter.



As the title states, Writing Fiction in High School with Sharon Watson is a fiction writing course for 9th-12th graders interested in acquiring a high school credit in English/Composition by studying how to compose fiction from conception to publication.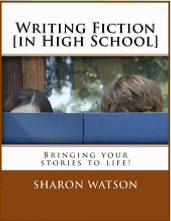 Have you ever thought about taking a course with your kids instead of just assigning it? Maybe in high school we were so busy trying to get out of doing schoolwork that we didn't appreciate the opportunities we were given? As homeschoolers, we get to relive those years to some extent, and correct the mistake of not learning when we had the chance.
Writing Fiction gave my daughter and I the opportunity to sit down together and do some fun and interesting writing assignments. It took us days to write a 26 sentence story, each sentence beginning with a letter of the alphabet. That's what happens when you give a couple of perfectionists that kind of assignment! However, it was the sort of exercise in creativity and discipline that is particularly helpful to students who are serious about writing, but just plain fun for those who aren't.
This program is very flexible, and can be used with a group, such as a co-op or writing club, or by a self-motivated student.
To give you an idea of how thorough this course is, the chapters in the Student Workbook cover these and other topics:
Facts About Fiction- the power of fiction, being a good reader, where ideas come from, being truthful in your fiction, and hooking your reader
Point of View- 1st, 2nd, and 3rd person, being consistent with POV, proofreading marks
Fairy Tales- motifs, creating rhythm,
Characters and Characterization- voice, emotion, appearance, reactions, naming, creating an empathetic lead, motivation, the death of a character, the antagonist
Conflict- internal and external conflicts, goals, death, tension, character arc
Dialogue- subtext, exposition, dialogue formats, dialogue tags, indirect dialogue
Description- descriptive tools such as sensory details, figurative language, organic imagery, vivid verbs, direction, weather, time, reaction, and the #1 rule of writing "Show, don't tell".
Words, Words, Words- audience and word choice, connotation, impact, passive/active, parallelism, style
Theme- how to fix 3 major problems with theme
Plot- two plot structures; the hero's journey, the circle
Scenes- deconstructing scenes
Beginnings and Endings- hooking the reader, genre, rules of story, setting, tone, the protagonist's voice, foreshadowing future conflict, endings, reader expectations
Getting Published- revisions, how to get published, manuscript format, pen names, rejection letters
Each topic has activities to help students internalize the writing principles and story structure explained and illustrated, such as rewriting a passage in a different voice, or brainstorming plot points related to the story's value. Many of the exercises in the workbook use The Last Book in the Universe by Rodman Philbrick as a model or illustration of the lessons in the chapter. There are also a huge variety of examples from best-selling books and popular movies, chosen for their quality and age-appropriateness. Every family has their own ideas of what is best for their kids, but there are so many from which to choose that picking examples that would work best for your student is not a problem.
The Teacher's Guide contains helpful notes about assignments as well as answers for the discussion questions, and a list of books, short stories, and media needed for each chapter. Parents need not worry that they won't know what to say when discussing the story examples and the principles of writing. The Teacher's Guide is very thorough.
We may want to view every story our child writes as a masterpiece, but if they really want to learn to write well, a course like  Writing Fiction in High School with Sharon Watson will give them an incredible foundation in just a few months. It will help the avoid the most common mistakes young writers make- weak plotting, head hopping POVs, overuse of dialogue tags, excessive adverbs, too much exposition, etc. They will also learn how to view what they are reading with the right kind of critical eye for theme, characterization, and motif. If they have aspirations to be a published author, they will learn professional writing tips and how to submit a manuscript to an agent or publisher.
If only I'd've had this course when I was in high school. . . and if wishes were dishes, I'd be Neiman Marcus.
But you can give your student the glossy non-consumable trade paperback Student Workbook (300 pages) for $25.05, and the Teacher's Guide (84 pages) is available for $9.95.
Want to know what the rest of the Schoolhouse Review Crew
thought about resources from Writing with Sharon Watson?