Art isn't just about looking at pictures or learning to draw. A good art curriculum helps kids develop their creativity, problem solving, focus, nonverbal communication, and how to accept feedback. If you are looking for a comprehensive art program with resources for all developmental levels, look no further than ARTistic Pursuits.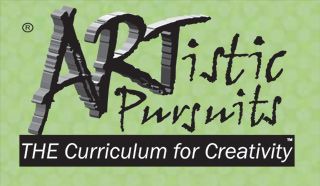 We received The Elements of Art and Composition Middle School 6-8 Book One. A quick check of our supplies- good quality drawing pencils, erasers, a sharpener, sandpaper- revealed that all we needed was to restock on sketch paper.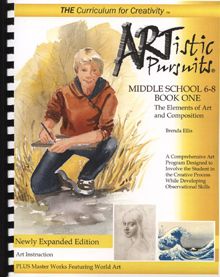 ARTistic Pursuits books have been re-targeted, expanded and improved. The Elements of Art and Composition Middle School 6-8 Book One consists of 16 units with four lessons per unit, each lesson spotlighting a different aspect of artistic design and composition. There are also four additional lessons and a suggested evaluation rubric for assigning a letter grade.
The first lesson of each unit focuses on learning a 'visual vocabulary'. Unit 4, for example, helps students understand the importance of shape, and how to look for shape by paying attention to every day places and things, with the objective of being able to see common objects in new ways.
There are samples of art in Lesson 2, and we learned about artists, their methods and styles, as well as the history and culture surrounding them. Specifically in Unit 4, a painting by Katsushika Hokusai called Beneath the Wave off Kanagawa was used to illustrate elements and traditions of Japanese art. The objective of this lesson was to see how water can take different shapes, and then draw a picture of water in motion.
In every unit, Lesson 3 centers on technique. The third lesson in Unit 4 taught about arranging objects for a still life, but making it a silhouette to bring out the positive and negative spaces created by the different shapes.
Applying all these principles in a final project for the unit is the goal of Lesson Four.
One of the best ways to learn how to do something is to explain it to someone else. My artistic child is Emma (14), so I gave this curriculum to her to work with and act as teacher to her little brother (11). She did a very good job of organizing the materials for each lesson, reading and breaking down each lesson for him, instructing him on vocabulary, technique, and encouraging him to apply the creative elements of each lesson. He enjoyed taking 'serious' art lessons instead of the usual scruffy pencil drawings of tanks and bombs dropping from airplanes.
There are a couple of ways to use this course. The recommended schedule is 2 classes or lessons per week, each of which require about an hour. We usually did more than that, often the entire unit, as we have been focusing on art instruction and projects on Saturdays. The kids had the entire morning for art, and they enjoyed the lessons so much they kept working through them.
All of the important ingredients of a solid art curriculum are present in ARTistic Pursuits , and it's been shown that exposure to art and exercising creativity improves critical thinking and interpretation, expression of emotion, and even verbal skills. The more children are taught to look at the world with "artist's eyes", the more attentive to detail they can become.
ARTistic Pursuits, The Elements of Art and Composition Middle School 6-8 Book One is available for $47.95 (+shipping). They have books for every grade level:
Early Elementary K-3 Book One: An Introduction to the Visual Arts
Early Elementary K-3 Book Two: Stories of Artists and Their Art
Early Elementary K-3 Book Three: Modern Painting and Sculpture
Elementary 4-5 Book One: The Elements of Art and Composition
Elementary 4-5 Book Two: Color And Composition
Middle School 6-8 Book One: The Elements of Art and Composition
Middle School 6-8 Book Two: Color and Composition
High School 9-12 Book One: The Elements of Art and Composition
High School 9-12 Book Two: Color and Composition
Check out the other reviews by the Schoolhouse Review Crew by clicking the banner below.