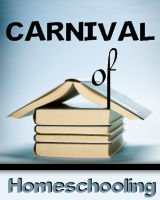 Happy 7th Anniversary to The Carnival of Homeschooling, hosted by the Cate's at Why Homeschool. This week's edition is number 366!
You may be wondering, "What is a blog carnival? Are cotton candy and funnel cakes involved?"
Sorry- no junk food. Blog carnivals are a way to corral a variety of blog posts from different bloggers on the same basic topic. It is called a 'carnival' because it travels from blog to blog. It is a great way to find information and encouragement about home education, and 'meet' fellow homeschoolers from around the country, and sometimes in other parts of the world!
The Carnival of Homeschooling obviously focuses on posts important to homeschooling, and is hosted by a different blogger every week. To find out how you can submit to or host a carnival, see the guidelines posted at Why Homeschool.