News flash for homeschooling parents: Each child is different. 
Oh wait- that's probably not news to you. But what you do often wonder as a parent is how to find resources that will fit your individual child's educational needs, while still remaining within your school budget. Especially important to homeschoolers is a solid foundation in core skills- reading, writing, and math.
Samson's Classoom is an online language arts program that focuses on three building blocks of language: sight words, spelling, and reading. With fun graphics, a continually encouraging reward system, and comprehensive tracking for parents, Samson's Classroom meets the spelling and reading practice needs of students from K-5th for as little as $30 a year.

Sight Words with Samson is comprised of 28 word lists broken down into 4 levels with 7 lists in each level, and 8 words in each list. Each list is presented in 4 steps for the student to complete. First, they learn the words by seeing and hearing them spoken and spelled out on the screen, as well as used in a sentence. The second step is to build the words by clicking on the correct letters in a short list of letters to spell them out. Samson the dog is there cheering your student with every correct answer. The third step is to identify the words, after they are spoken, from a list. The child can click the "Hear again" button if they need to. The final step is to spell the words out by choosing the letters from a display of the entire alphabet. If they answer incorrectly, they have the opportunity to try again, but they must get each word right before receiving a star for that list. When they have completed all the lists in a level, they are awarded a 'belt' and then progress to the next level.
The parent can check the scoreboards to see how many lists and levels were completed, and their child's score shows if they received a perfect score, or need improvement.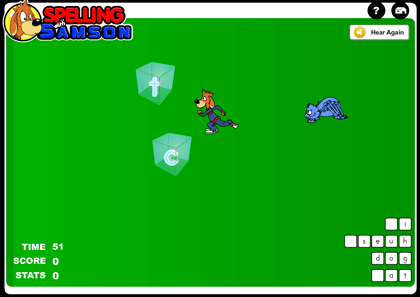 Spelling with Samson offers two options for spelling lists- parent created lists, or default lists by Knowledge Wand. After you've chosen a list, you can print it, or have the student click on each word to hear it said, spelled, and used in a sentence. Or both. Then there are three games for students to play to give them spelling practice. In Missing Letters, the child chooses the missing letters for the word being shown, and Samson will karate chop the piece of wood over those letters. An incorrect guess will give Samson a severe headache as he attempts the karate chop with his head instead of his hand. In Spelling Scramble, Samson runs through a field of letters gathering them up while avoiding Terrence the tarantula that stays on his tail, then uses those letters to spell the words. Each time a word is said, it is used in a sentence. If Terrence catches Samson, Samson gets cocooned. Crunch Time finds Samson waiting on an ice floe until the child spells the words in time to jump to the next ice floe before Wally the Walrus can chomp through. If a word is spelled incorrectly, Samson falls in and becomes an ice cube himself. By the time the child has played each of these games until they get all answers correct, they will know very well how to spell each word on the list.
Reading with Samson involves reading a few short paragraphs and then answering comprehension questions about cause and effect, chronology, details, and the main idea. Each correct exercise completed rewards the student with points toward a game where Samson gets to play Hammer Swing. When an answer is incorrect, the passage containing the correct information is highlighted and the student is given a chance to answer the question correctly.
Samson's Classroom also includes some great supplemental materials. Under the Resources tab, you can download reward certificates for different sections and levels that can be printed in color or black and white. Click on Lesson Plans for flashcards, as well as printable game cards and instructions for Sight Words games like Bingo, Baseball, and Memory Match. There are also printable worksheets for practice with capital letters, consonants and vowels, word scrambles, filling missing words in sentences, and building words with missing letters.
Our Experience
+ Kenny enjoyed all aspects of the program. The beginning lists were very easy for him, so he progressed quickly. He liked seeing the scoreboard of all the levels he had completed, and winning the belts. As he continued and some of the lessons were more challenging, he was motivated enough by the games to persevere. He did want to skip the 'study' part of the games, but to see and hear the words spoken, spelled, and used in a sentence was too important. Typical boy. I've found that starting the school day with games like Samson's Classroom is a great warm up for school.
+I've watched him continually improve in phonemic awareness, sight word recognition, and reading comprehension. I could sign in and check his progress – how many answers were correct/incorrect, the date he used that part of the program, and how long it took him to complete the game. I always make notes of the words that he has trouble with while reading, and used those to compose my own spelling lists, which the program incorporated into the games (the program contains a word bank of about 7000 words, so it is unlikely that the spelling words on the level of the average elementary student won't be available. If they are not, you can request they be added).
–Navigating Samson during Spelling Scramble was a bit difficult at first. It may take time for kids to learn to control Samson's movements on that particular game.
But don't just take my word for it. Watch videos that show the program's various features. Play a demo game. Request their newsletter.
Subscribing to Samson's Classroom is quick and easy. There are several pricing options, but the plans most likely to be used by a homeschool family are Home (1 user) $30/year or Family (4 users) $50/year. Samson's Classroom is PC and Mac compatible and requires an internet connection. Pop-up blockers should be disabled so that the program can open new windows. We used Samson's Classroom with Windows Vista, Firefox, and Google Chrome browsers without any technical issues.
Want to know what the rest of The Schoolhouse Review Crew thought about Samson's Classroom?
Click on the banner below.