Homeschooling families are always looking for ways to teach multiple ages, and many have found unit studies to be the answer. Unit studies take one topic and spread it across the curriculum. Families read and research the subject together, and the parent assigns exercises and projects appropriate to each student's level.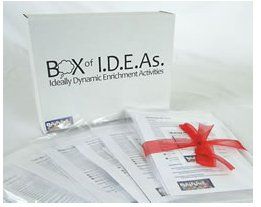 A Box of I.D.E.As. (Ideally Dynamic Enrichment Activities) has taken the unit study to highly usable, flexible, and productive level for students ages 9-16. Topics available are:
Pigs
Salt
Eleven
World War II
Quilting
Laundry
and many others will be available soon
We reviewed the .pdf download of the Salt unit. We are a salt loving family, using it on everything from apples to lemons, and even chocolate chip cookies. Salt makes food taste more like itself, and has many household uses. Salt makes for a very fascinating study that encompasses history, science, economics, nutrition, and industry. Our kids are always excited to see how many ways we can incorporate one topic into all subject areas, and it was fun to think about how those little grains that sit in the shaker on the table, for which we pay so little at the store, could have so many uses and impacted history in so many ways. We realized how much we underestimate items that to us are common, but were once very precious.
With each completed module, we have added some great projects to our school files for documentation and future evaluation.
The download included a letter of explanation about Box of I.D.E.As., and some suggestions about how to use
it. Each module could stand alone, but using all of them provided a very well-rounded overview. The Salt modules covered:
The History of Salt- Contains surprising facts about the impact salt has had on civilizations from the beginning of history and around the world. Economies, cultures, and wars have been influenced by the uses and need for salt. Instructions and fact cards for a game about the chronology of salt, web links for further study, and a page for the student's portfolio round out this module.
The Language of Salt- Salt has been so important and influential that many of our idioms are based on the value and uses of salt. Cards for a word match game can be printed, and web links offer more background information about this topic.
The Need for Salt- This module explores the nutritional value of salt, and students can have a little adventure in their own kitchen, looking at labels for sodium content, planning a well-balanced menu, and includes a chart that lists the sodium content of common foods.
Preserving with Salt- we know that throughout history, salt has been used to preserve foods. This module delves further into food preservation, and all you need to play the game are game markers and dice.
Producing Salt- Salt is a plentiful substance, it can be obtained by various methods. Check out the web links to videos and pictorials of salt being harvested.
The Science of Salt- Follow the instructions for experiments to learn more about the properties of salt. A great addition to your child's science portfolio.
The Salt March- What do salt and Ghandi have in common? Do this module to find out.
The Salt of the Earth- Research the many geographical locations where salt is found and produced and play the accompanying game with the map and cards provided.
The Wall that Salt Built- Salt is so valuable and treasured around the world that is has been used to finance such enormous tasks as building the Great Wall of China.
Very Salty- More geography lessons and a game about bodies of salt water, and what this means in other parts of the world.
The Salt unit was completed with a timed, multiple choice test. Even if you don't usually test your children, these are recommended for SAT/ACT practice for older students. Answer keys are included.
We also discovered that these studies are very portable, and it's great to be able to use down time in the car for fun discussions about the modules we had covered.
This product is offered as a physical Box of I.D.E.As. with everything you need for the assignments and activities for $79, extra student modules for $4, or as a .pdf download for $49.
Want to know what the rest of The Schoolhouse Review Crew thought about their Box of I.D.E.As.? Click on the banner below.